October Supplies for Ukrainian defenders on the Eastern front
The town of Bakhmut in the Donetsk region is a strategic location: this is the hotspot where the Ukrainian defenders are fighting tooth and nail against the massive russian onslaught. This town has now become world-famous as a symbol of Ukraine's valiant resistance. On October 8-9, my friend and I went to the frontlines in this key operational area to deliver most of the supplies from our previous "Protect Ukrainian Defenders" fundraiser.
Some people ask us why we have to go there ourselves – instead of just sending supplies. Direct interaction with Ukrainian servicemen and women remains essential for our support initiative: handing over the supplies in person allows us to show our solidarity with them and better identify their future needs. Nothing beats human connection and trust – especially at war.
Life-saving medical supplies
In October, we kept helping combat medics of Ukraine's Armed Forces with top-quality life-saving medical supplies. This time, we brought combat application tourniquets, chest seals, combat gauze, thermal blankets and anti-burn dressing for medics of the 93rd and 72nd Mechanized Brigades, as well as a batch of high-quality medical backpacks for these units. On this run, we have supported an equal number of male and female medics in this fundraiser: three women and three men.
Both of these Brigades are now holding tough positions in the hottest war spots of the Donetsk region. Our supplies are already helping these medics to provide critical aid on the battlefield and to save the lives of Ukrainian defenders. One of the medics told us: "It would have been much more difficult for us without your help" – and these are the words for our donors. For example, most of the medical supplies for the 93rd Brigade were for two infantry battalions. These battalions have been fending off the unrelenting russian attacks for weeks at the expense of many wounded servicemen and women, and they needed to replenish their medical supplies. This combat medic from the First Battalion, V., came straight from Bakhmut to pick up our large delivery for his team.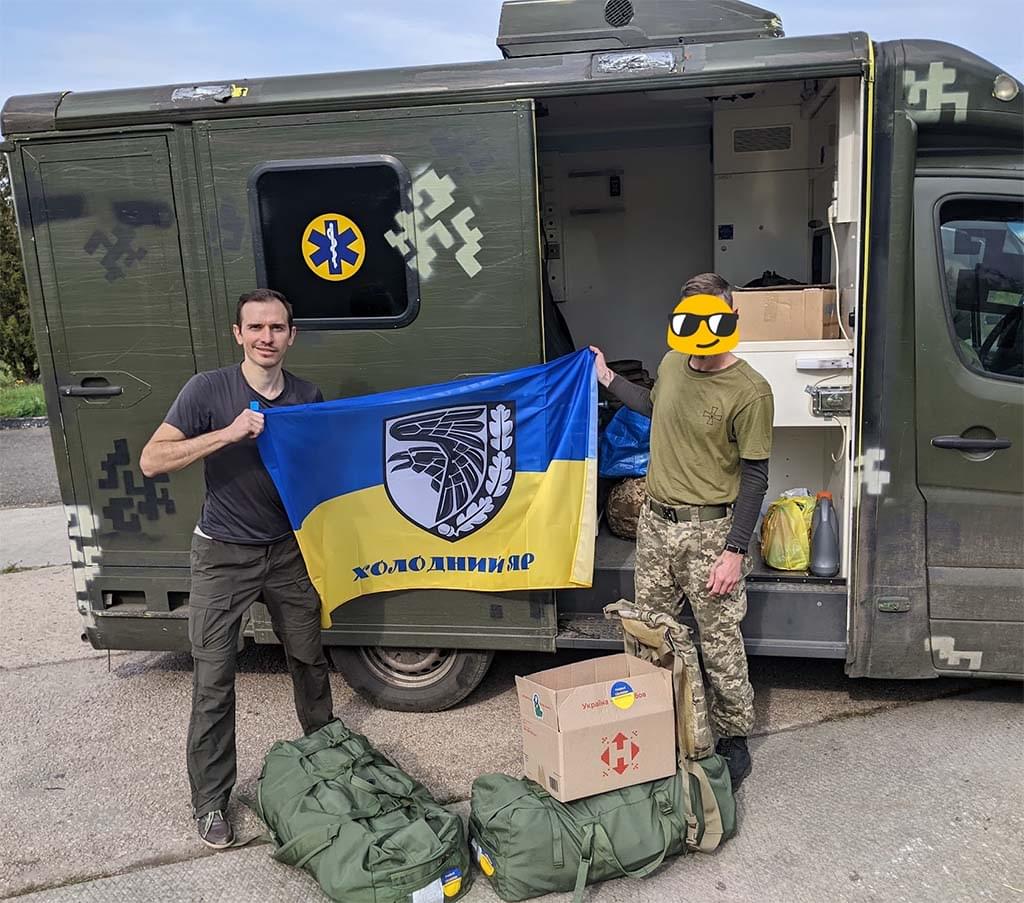 We continued to tailor our supplies to the medics' needs: for example, at the request of our partners from the Medical Company of the 72nd Brigade, we brought them such specialized medical items as pelvic slings, which are used to stabilize horrible pelvic fractures - in addition to many other "basic" tactical medical supplies. This ability to be flexible with our supplies is important for our combat medics because their needs change significantly depending on the battle situation. L., the commander of this Medical Company (woman in the center), appreciated how quickly we managed to respond to her request for help.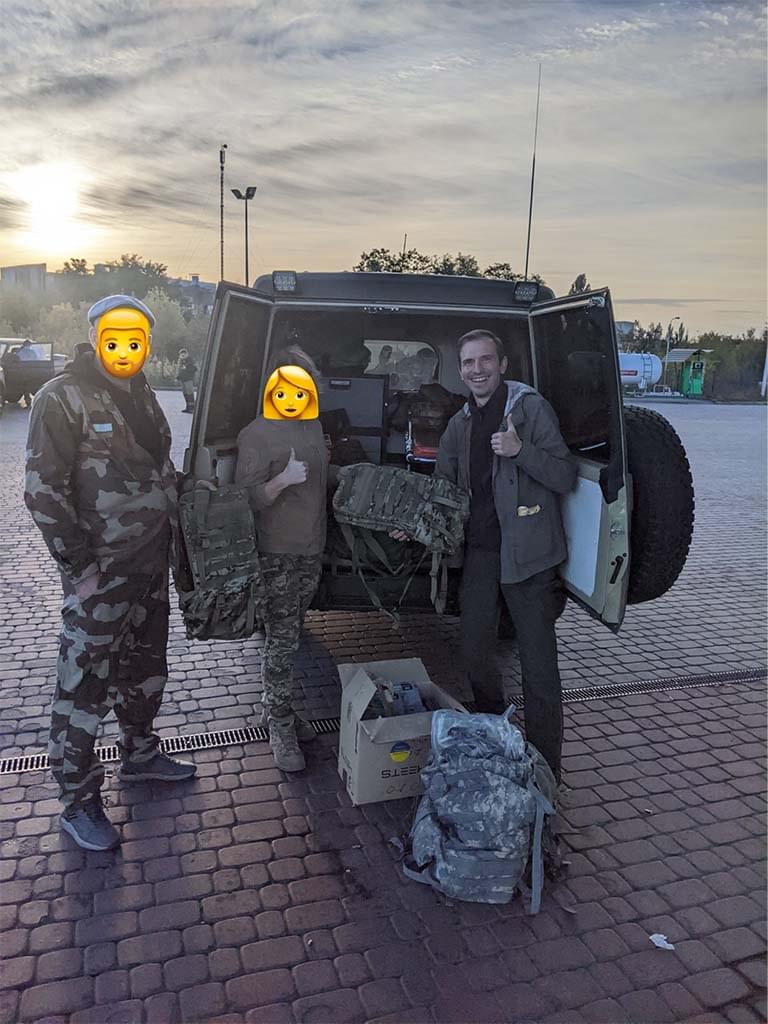 Those folks less familiar with tactical medicine may be surprised to see medical backpacks (picture above) among the life-saving supplies that we brought to the Ukrainian medics. These backpacks are indispensable: they help combat medics to keep all the essentials at hand and in proper order. This is critical for providing aid at the frontline when sheer minutes separate life and death. We brought well-tested TACOPS medical backpacks (produced by the American company TSSI) to senior combat medics from the 93rd and 72nd Brigades, and they asked for more of these products for their fellow medics. What medics appreciate about these backpacks is how well they can organize their supplies along the tactical medicine protocols that they follow to help their fellow servicemen and women.
Last but not least, an unexpected in-kind donation of chest seals and advanced trauma dressings enabled us to support the medics of the 8th Regiment of the Special Operations Forces after our "formal" fundraiser was closed. This is already the second time that we have made a large medical handover for this reputable special-ops unit, and we will continue to support this unit with tactical medical supplies going forward.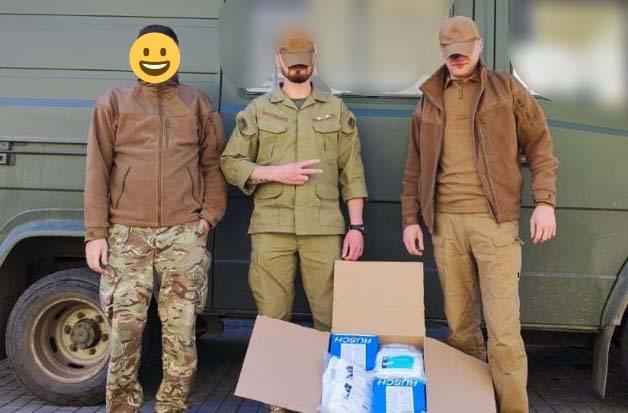 Protective gear and tech for the Ukrainian artillery
We have continued our cooperation with several Ukrainian artillery units on our supply run in October. Artillery is crucial for the Ukrainian army: there is a saying here that the sweat of the artillery is saving the blood of infantry soldiers.
First off, we brought the Artillery Division of the 93rd Brigade "Kholodny Yar" a DJI Mavic 3 quadcopter, which provides an important pair of "eyes" for the artillerymen on the battlefield. Amid the ongoing artillery duels against the russians on the Bakhmut frontline, these drones help to detect the enemy and to stop its deadly advances in its tracks. We also handed over 4 high-quality helmets and 6 Earmore tactical headsets for the operators of towed artillery systems of this legendary Brigade. As the Artillery Commander explained, these operators are already putting that protective gear to good use in dangerous combat conditions, where they could be hit by russians at any moment. We do not pretend to supply all the necessary gear (needs are huge); instead, we aim for a targeted approach: in this case, our supply helped to close this gap for that artillery crew.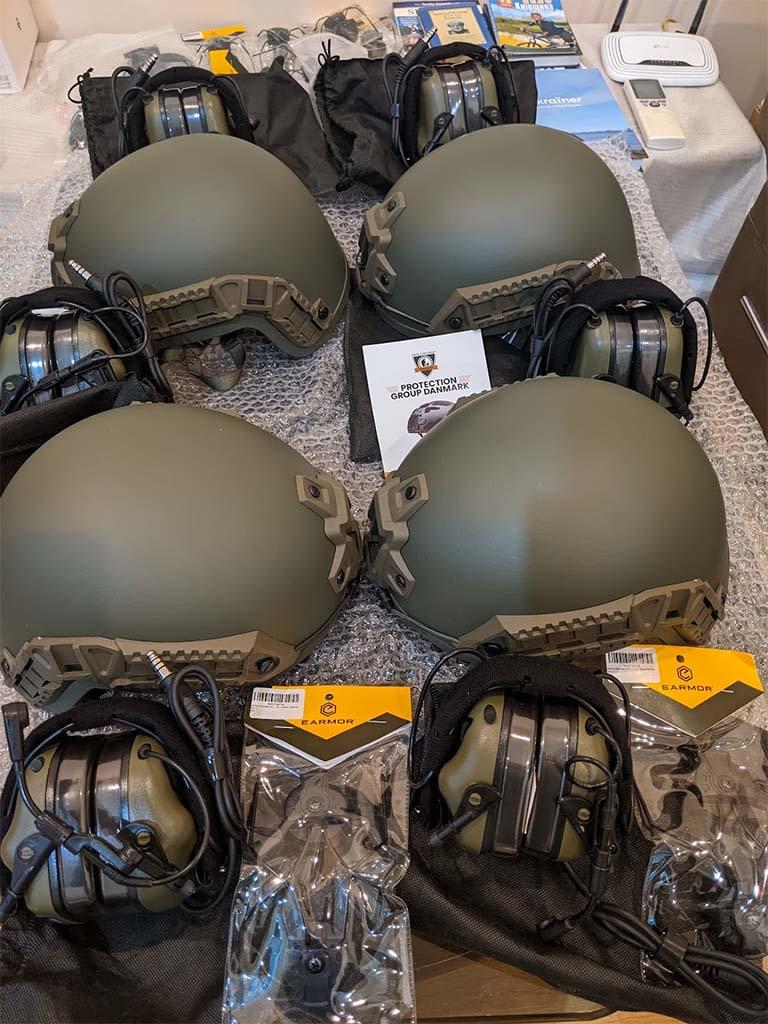 The artillery unit of the 28th Brigade received two protected tablet PCs from us. These tabs are of particular importance for the artillery, as they are used for uninterrupted management of howitzers (in this case: Norway-donated M109), which remain the priority target for russian invaders. For this purpose, the Ukrainian Armed Forces has specialized software designed for planning, calculations and orientation, which is installed on tablet PCs. This software (called "Kropyva", which means "nettle" in Ukrainian) amounts to a combat control system. Our donated tablet PCs now serve to run that system in the South of Ukraine. Here is a member of an M109 crew with one of the tablets that your donation has helped to buy.¬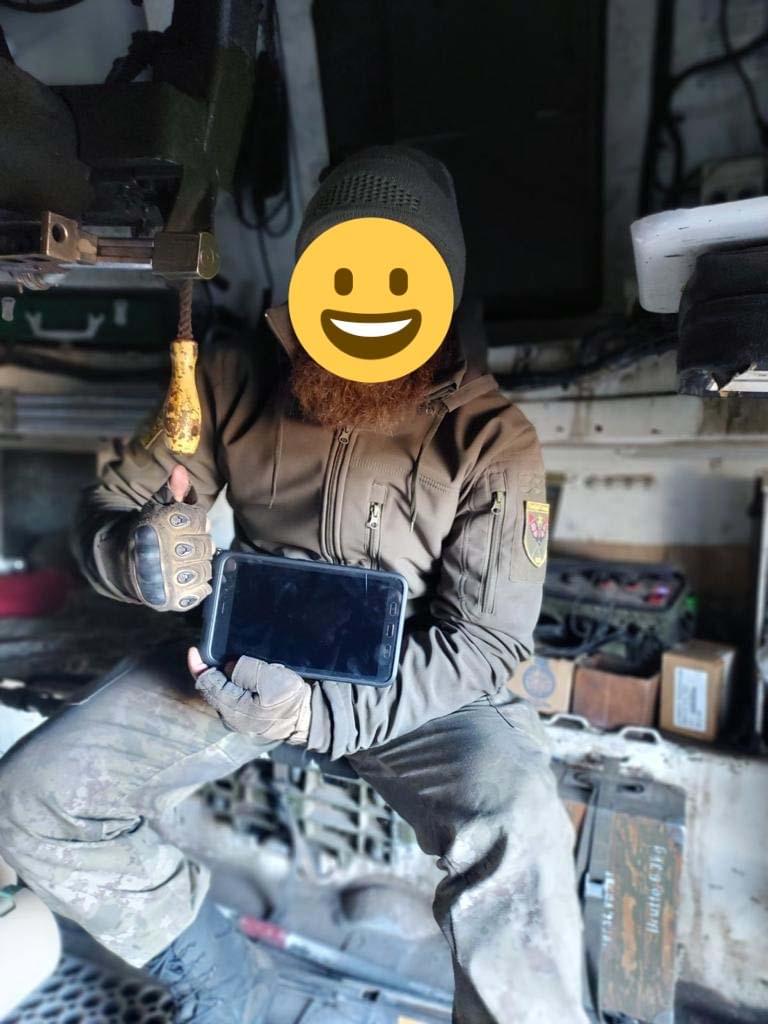 As we have repeatedly heard from combat medics, servicemen operating artillery systems face a high risk of hearing damage due to extreme noise. However, ordinary noise reduction earmuffs would not be fit for purpose of reducing that noise, because servicemen "at work" need to hear and follow the commands. Active headsets provide a good solution: they protect hearing from harmful impulse noise while amplifying harmless sounds. In this fundraiser, we delivered high-quality active protection earmuffs both for the 93rd and 25th Brigades, who had earlier requested this gear from us. Hence, the hearing of 25 Ukrainian servicemen is now better protected thanks to these indispensable earmuffs.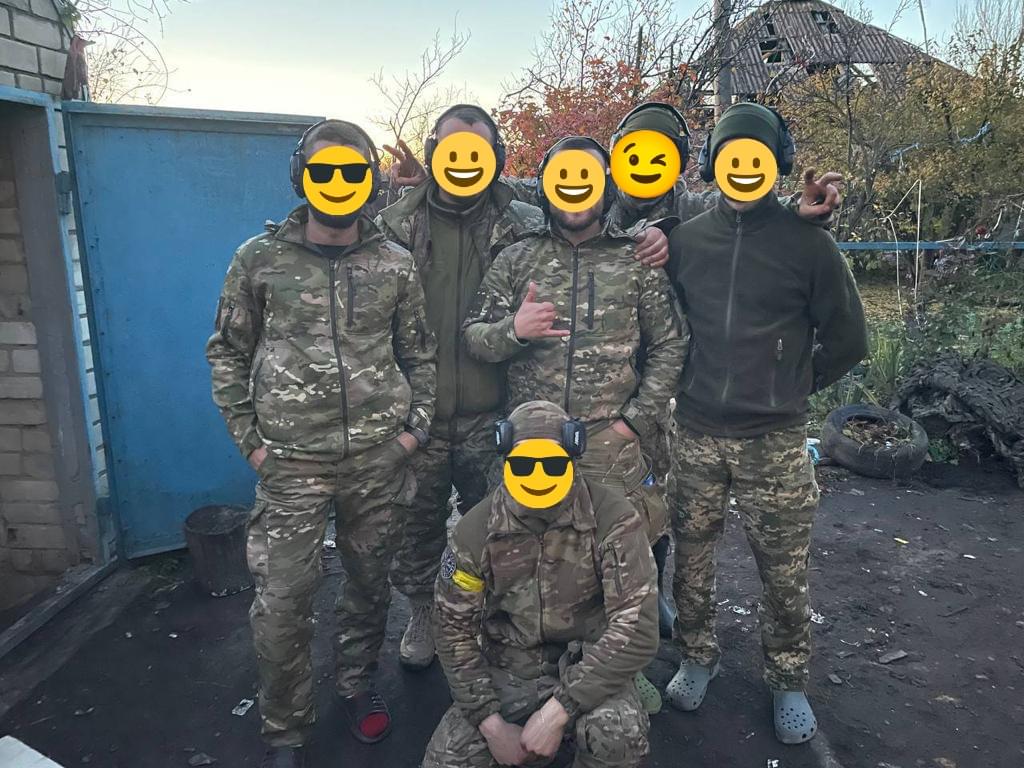 Finally, we have also delivered three mobile power stations to our defenders: two for the 26th Artillery Brigade and one for the 93rd Brigade. These power stations are used to feed the communication equipment in the field, including Starlink terminals, radios and other electronics. Besides, they allow our servicemen to do that without being constantly dependent on a stationary energy grid – which is important now that the russians are targeting the Ukrainian energy supply.
One officer from the 93rd Brigade (picture below) wrote to me several days after the handover that our power station had really saved his team's comms gear. High-quality communication remains one of the advantages of the Ukrainian Armed Forces over the overwhelming enemy force, and our donations helped to solidify that strength.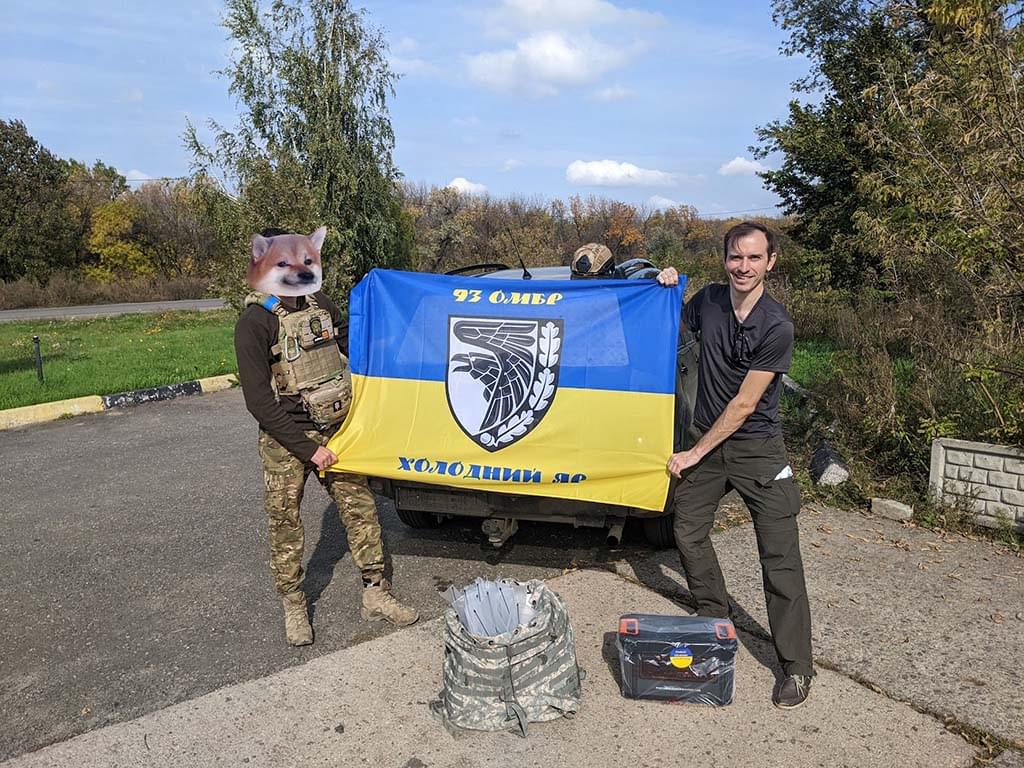 We at #ProtectUkrainianDefenders sincerely appreciate your support as a donor. These supplies of medical equipment and protective gear would not be possible without your generous help. Your donation has helped the courageous men and women who are shielding the Ukrainians day and night. Together, we will continue our work to supply our defenders with the best gear they need to defeat the russian invaders – and to preserve as many of their precious lives as possible.
Slava Ukraini!
---
With deep gratitude,
Evgen
On behalf of the team of Protect Ukrainian Defenders
https://protectukrainiandefenders.org